Leshi: Short Tales is…
A fearsome, wholesome adventure about learning to live with people you'd rather eat for breakfast.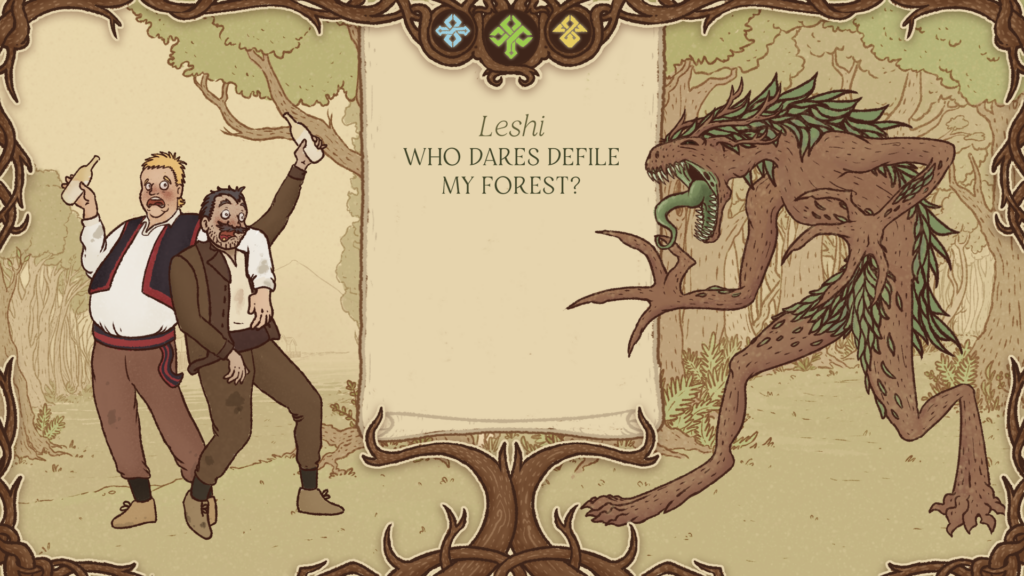 Part visual novel, part "mischief sim", Leshi: Short Tales invites you to step into the life of the Slavic forest guardian, Leshi.
You're a trickster, a curmudgeon, a savage protector of the woodlands and all who live behind its branches. You have a ferocious temper, and a wicked sense of humour.
Pesky hooomans are encroaching on your territory, and you're not one bit happy. Will you torment them, befriend them, or…something in between?
You are the mighty Leshi, and have the power to shape their puny lives. But just how much fun can you have with these hooomans before they revolt? And how will your choices affect the fate of your forest home?
Leshi: Short Tales is the first game from Portal Punch, a fully remote gamedev team located in Ireland and Slovenia.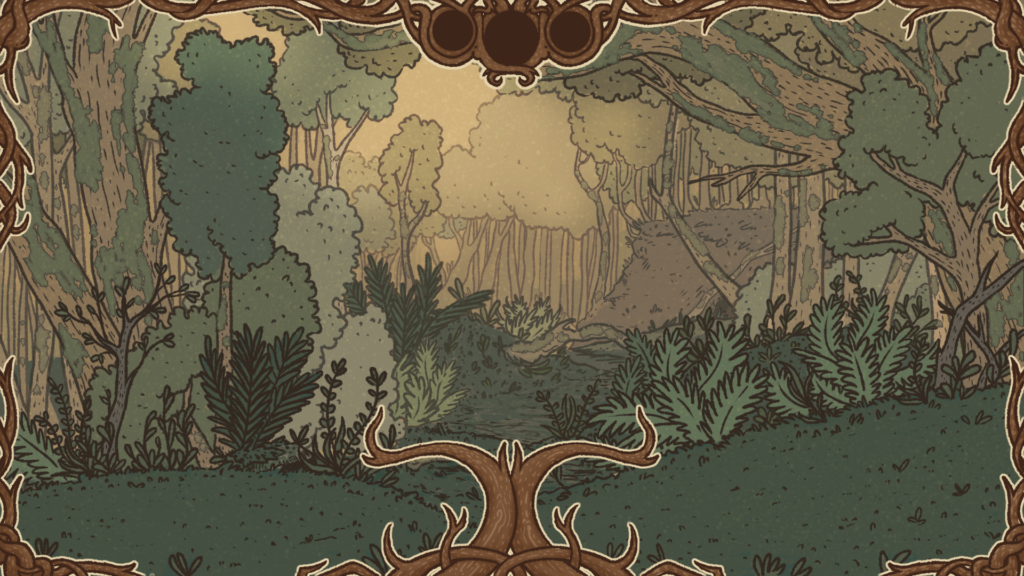 Features
An unusual visual-novel-and-a-bit-more with a scoring mechanic that determines gameplay, with different choices, consequences and endings that interact in unexpected ways.
An aesthetic that blends elements of folklore with an art style that hovers between folk horror and fairy stories,
A wholesome, funny story with a focus on character development and empathy (with a healthy bad temper and mischief allowance.)
---
Background
Leshi is a trickster, and we think he might have tricked us into creating a whole game about him.
We're a team of freelancers who wanted to see what we could make with our love of stories, our client-honed skills, and our unbridled creativity. We had grand plans, but first, we thought we'd take a couple of weeks to bash out a teeny little game-jam concept, to learn how to work together as a team.
That's when the tricks began.
We started our company when the rest of the world had ground to a halt. Confined to our homes and a few kilometres in every direction, we were all dreaming of adventures and journeys and encounters with fantastical folks. We began to fall in love with the character and story of Leshi, and didn't want to limit our imaginations and scope.

Plus, Tia made the art too hecking good.

Before we knew it, we'd been tricked into creating a dynamic and unusual kinda-visual-novel. The twists and turns and possibilities were too enchanting. We couldn't stop.

Leshi took over, and here we are.
---
About Portal Punch
Portal Punch is a fully remote four person development team based in Ireland and Slovenia: a programmer, an artist, an animator and a writer. Our quest is to create games that create good feelings, and to make them as gorgeous as possible. We're all-in on wholesomeness, and we're all inspired by nature, folklore, warm fuzzies, silly jokes, pets and tea.
---
Meet the Team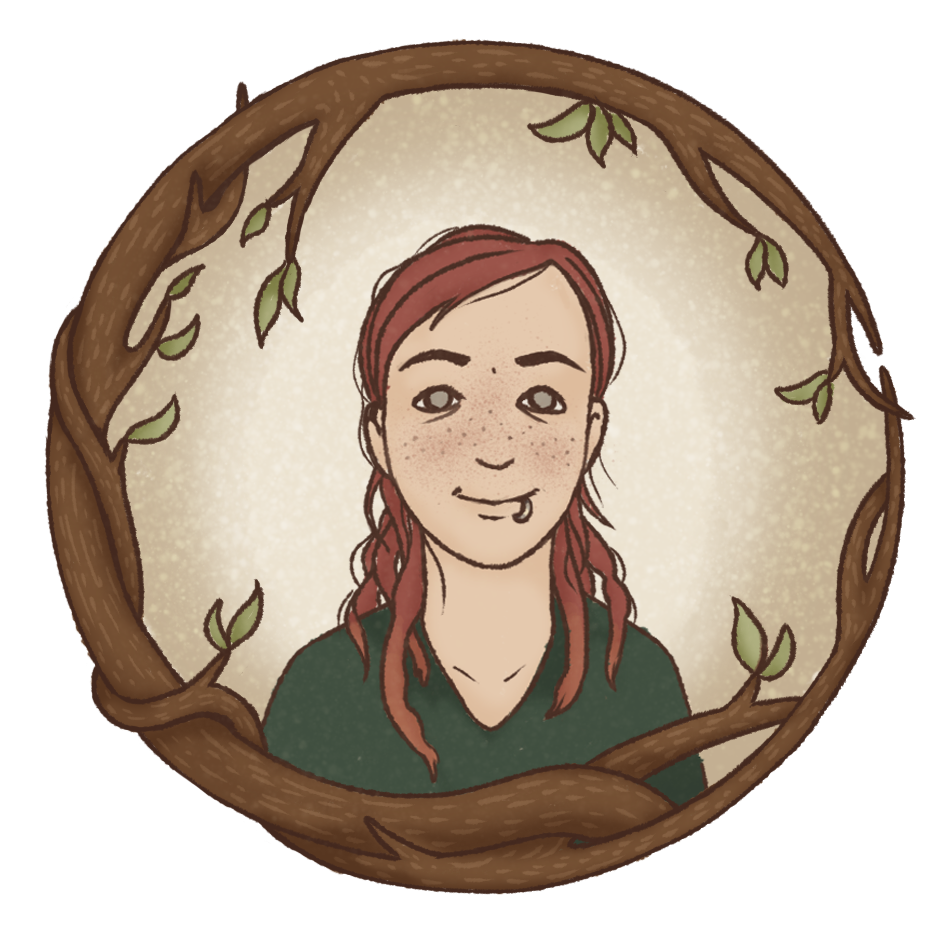 Tia Friedel – Creative Director, Artist
Concept art, illustration, 2d game art and story
Pronouns: any/all.
Tia's our visionary creative director with a deep connection to wholesome things. When not bringing interesting characters and worlds to life with her art, Tia is wrangling her pet rat companions in a brave effort to keep them from taking over the world.
Working as a freelance illustrator, designer, and independent 2D filmmaker, Tia's skills cover digital and traditional artwork, with the huge track record of hitting project milestones. She has extensive experience as a contract artist for board game and tabletop game companies. She has worked in filmmaking and on animated shorts as an animator and art director. Consequently, she has experience in scriptwriting, storyboarding, character and prop design.
Tia is always drawn to games that are visually appealing, first and foremost. If they have complex and interesting characters to boot, there's no hope for her: she will inevitably fall head over heels for them. She considers it an immense privilege to hopefully make games like just that: with a goal of making people feel warm, fuzzy, and overwhelmingly wholesome!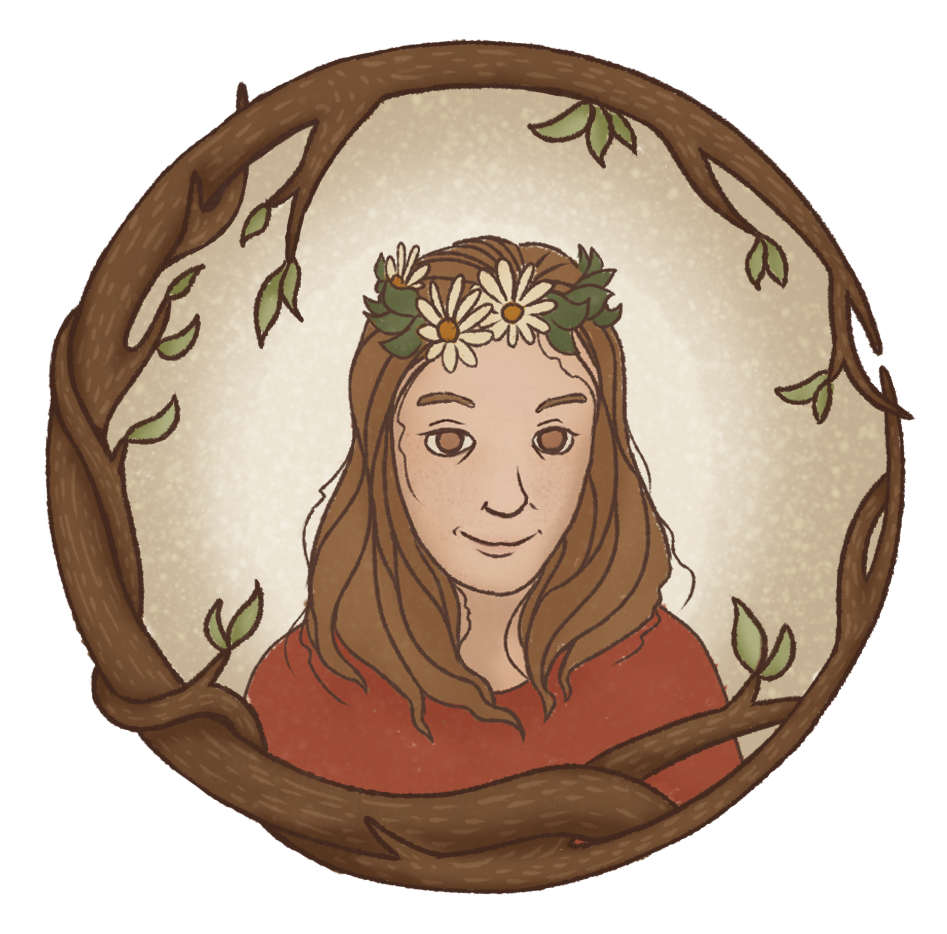 Amanda Gareis – Writer, Marketing Director
Theme and plot development, narrative, dialogue, branding, copywriting marketing
Pronouns: She/her
Amanda is our writer, skillfully crafting characters and narratives from a wild well of creativity. From her fingertips flows the power to create and destroy. Also, dad jokes. Amanda is a benevolent and caring presence on the team, and we're excited to have her put our dreams and ideas into words.
With a background in theatre and playwriting, Amanda has spent the last 10 years in the marketing world of brand storytelling, creating brand and campaign concepts, content, and copywriting assets for creative and experience-led companies across the world. Joining Portal Punch has been a fantastic journey back into writing for the pure joy of it, and a thrilling experiment in building worlds with words.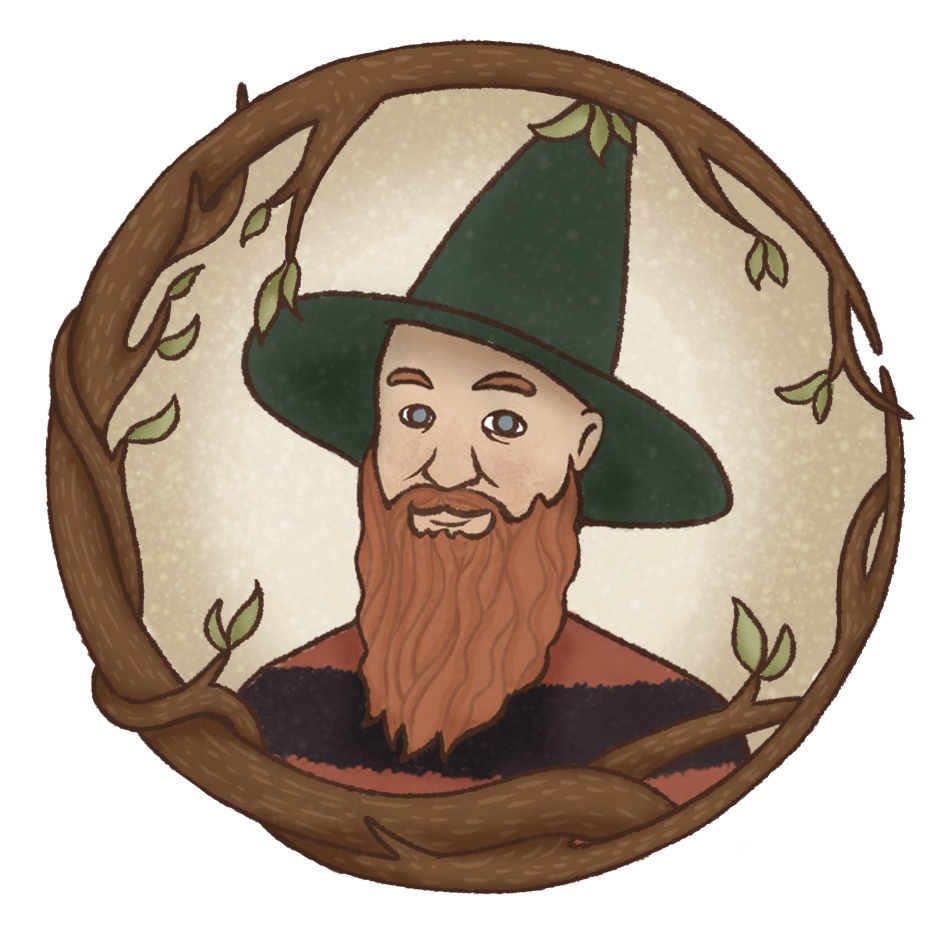 Darren Kearney, Programmer
Gameplay programming, systems design and business development.
Pronouns: he/him
Darren is our bearded wizard and brilliant programmer, fluent in the arcane tongue of Beep Boop and making computers do amazing stuff. He's a deeply thoughtful storyteller at heart, and fuelled almost entirely by tea. When he's not making games or websites, he's making music.
With a deep well of web development experience and more than a mild obsession with games of all kinds, Darren brings so much technical and strategic knowhow to the team, as well as unconditional support.
The gamedev community is near and dear to Darren's heart: over the last half decade he has devoted himself to supporting and encouraging indie game events. He's co-founded 1GAM Galway, a monthly meetup for game developers to test their prototypes, get feedback and practice their presentation skills, and been a Board member for Global GameCraft CLtdG, an organisation designed around building the gaming community with a focus on diversity. He has been organising Galway Game Jams since 2015, and after the unfortunate closure of Pulse college's Game Dev campus in Galway in 2018, Darren was endorsed by previous organisers and took over the role of Site Organiser for Global Game Jam Galway. Since then he has championed Galway to the Global Game Jam team at Gamescom and continues to advocate for Galway as an excellent location for game developers to locate new studios. Darren is incredibly grateful for being a part of this community.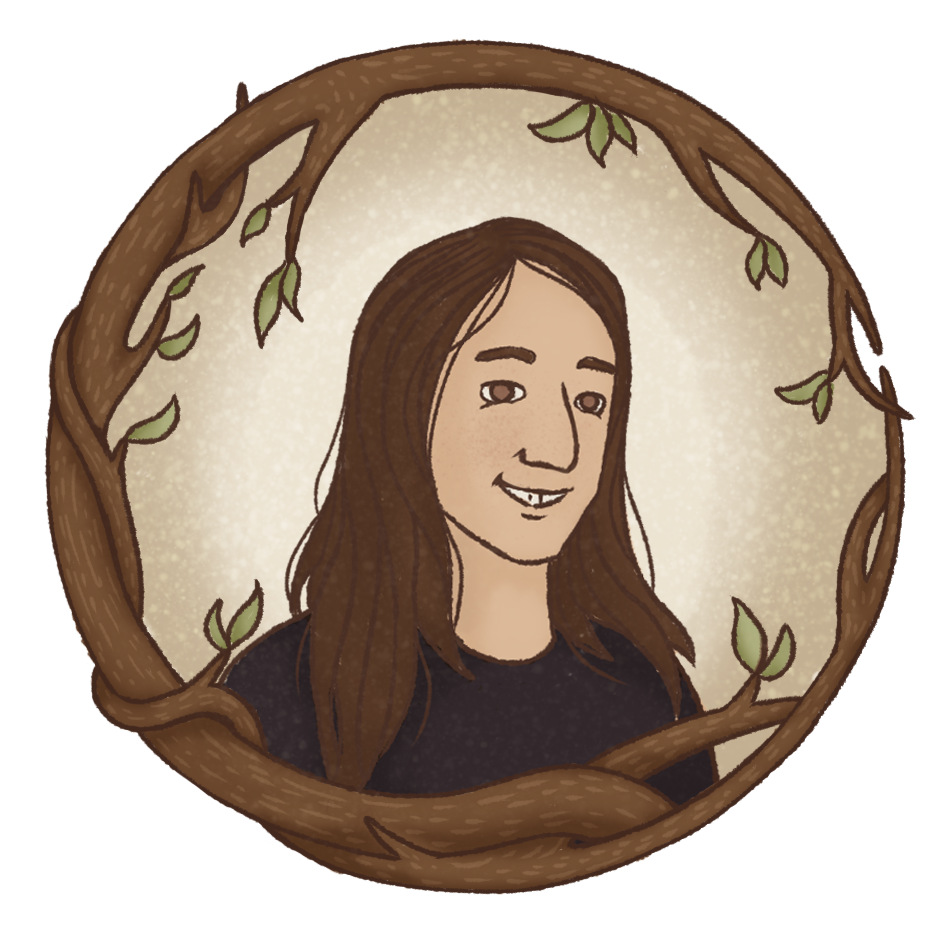 Ivan Umer – Animation Artist, Designer
Character animation, FX animation and level design
Pronouns: he/him
Ivan is an unstoppable animator and vfx artist, combining immense creativity and unflappable practicality: he will continue to move projects forward even when Mother Nature (literally) drowns his computer. In his perspective, all the little tasks that go into making a game are the most fun you can have behind a screen, and when he sees all of them together working in a game, his heart and brain do backflips. If the result is a game with a relaxing and soothing vibe, all the better.
Throughout his career in animation, Ivan has worked on a vast range of projects, including animation and asset production for mobile and casino games. Most recently he was part of the ZVVIKS team which launched their mobile game Koyaa in late 2019.
---
Contact
Join our Discord Server here: https://bit.ly/portalpunchdiscord
Join our mailing list here: